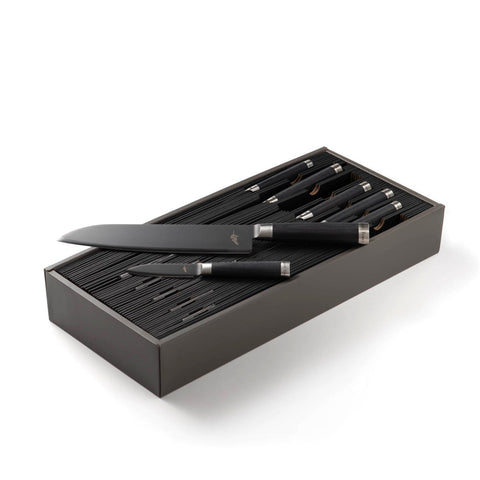 Set of 7 Knives - B
Taxes are not included. Free shipping.
A set of seven knives to bring superior enjoyment in food preparation whether it is for every day or for a special occasion. 

Set B: No.1~5, No.7 and No.9
The difference between A and B is No. 6, which has the longest blade, and No. 9, which is a bread knife.
For professionals, there will be many situations where they will want the No. 6.
On the other hand, in many people's cooking scenarios, the No. 5 can serve almost the same purpose as the No. 6. The number 9 included instead has the great advantage of being a bread knife that can beautifully cut bread de campagne to the desired thickness, and the knife block is designed as a B set, so it can create a perfect interior presentation in an open kitchen.
Materials:
Blade:high carbon stainless cutlery steel

Blade spine:stainless steel

Blade surface:titanium coating

Handle:reinforced laminated wood

Bolster:stainless steel

Pommel:stainless steel
*The set of seven knives and the set of ten knives do not include the plain wood sheaths.